Bio:
"Futureproof" is the debut solo-album by Guitarvirtuoso/ Singer/Songwriter Marcel Singor, produced by successful Dutch producer Bas Bron. Bas Bron is best known for his work with/as Fatima Yamaha, Seymour Bits and especially his ongoing collaboration with one of biggest Hip Hop bands in The Netherlands 'De Jeugd van Tegenwoordig'.
Allthough Futureproof is Marcel Singor's first actual solo album, it's very much a collaboration. "Futureproof" is definitely the sound of the best of two seemingly different worlds coming together. At first glance an unlikely collaboration but Bas Bron's very own brand of synth-heavy retro-futuristic production leaves plenty of room for Singor's dazzling leadguitar work, characteristic but accessible vocals/harmonies and always imaginative and melodic sense of songwriting.
Spearheaded by the first 2 singles/videos "Authority" and "Technicolor", "Futureproof" is also making its way to the stage, putting Funky, melodic synth rock with no holds barred leadguitar back on the map in a completely fresh and exciting new way, evoking images and the possibilities of the 80's while pointing at the future.
Check out also:
https://www.facebook.com/marcelsingorofficial
Articles:
http://www.altcountryforum.nl/2015/07/28/marcel-singor-futureproof/
http://metalasfuck.net/zine/reviews/2015/marcel-singor-future-proof-glassville-records
http://zinesters.nl/2015/06/marcel-singor-technicolor/
http://subjectivisten.nl/?p=3582
http://www.musictrespass.com/content/marcel-singor-releases-brand-new-album-future-proof
http://3voor12.vpro.nl/lokaal/den-haag/nieuws/2014/videoclips/Marcel-Singor-Authority.html
http://www.mpodia.nl/content/marcel-singor-futureproof
http://www.mega-media.nl/news/14899
http://itsallhappening.nl/marcel-singor-feat-bas-bron-futureproof/
http://www.musictrespass.com/content/marcel-singor-releases-his-brand-new-video-through-music-trespass-tv
More reviews: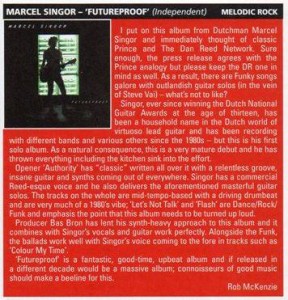 Label and bookings/management:
http://glassvillerecords.com/marcel-singor/
http://glassvillemusic.com/contact/